Social Media Marketing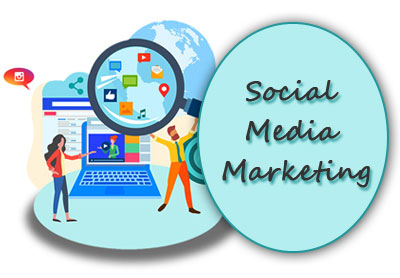 Social media marketing is the use of social media platforms and websites to promote a product or service. Although the terms E-marketing and digital marketing are still dominant in academia, social media marketing is becoming more popular for both practitioners and researchers. Most social media platforms have built-in data analytics tools, which enable companies to track the progress, success, and engagement of ad campaigns.
Companies address a range of stakeholders through social media marketing, including current and potential customers, current and potential employees, journalists, bloggers, and the general public. On a strategic level, social media marketing includes the management of a marketing campaign, governance, setting the scope (e.g. more active or passive use) and the establishment of a firm's desired social media "culture" and "tone." When using social media marketing, firms can allow customers and Internet users to post user-generated content (e.g., online comments, product reviews, etc.), also known as "earned media," rather than use marketer-prepared advertising copy.
Small businesses also use social networking sites as a promotional technique. Businesses can follow individuals social networking site uses in the local area and advertise specials and deals. These can be exclusive and in the form of "get a free drink with a copy of this tweet". This type of message encourages other locals to follow the business on the sites in order to obtain the promotional deal. In the process, the business is getting seen and promoting itself (brand visibility). Small businesses also use social networking sites to develop their own market research on new products and services. By encouraging their customers to give feedback on new product ideas, businesses can gain valuable insights on whether a product may be accepted by their target market enough to merit full production or not. In addition, customers will feel the company has engaged them in the process of co-creation—the process in which the business uses customer feedback to create or modify a product or service the filling a need of the target market. Such feedback can present in various forms, such as surveys, contests, polls, etc. Social networking sites such as Linkedin, also provide an opportunity for small businesses to find candidates to fill staff positions. Of course, review sites, such as Yelp, also help small businesses to build their reputation beyond just brand visibility. Positive customer peer reviews help to influence new prospects to purchase goods and services more than company advertising.